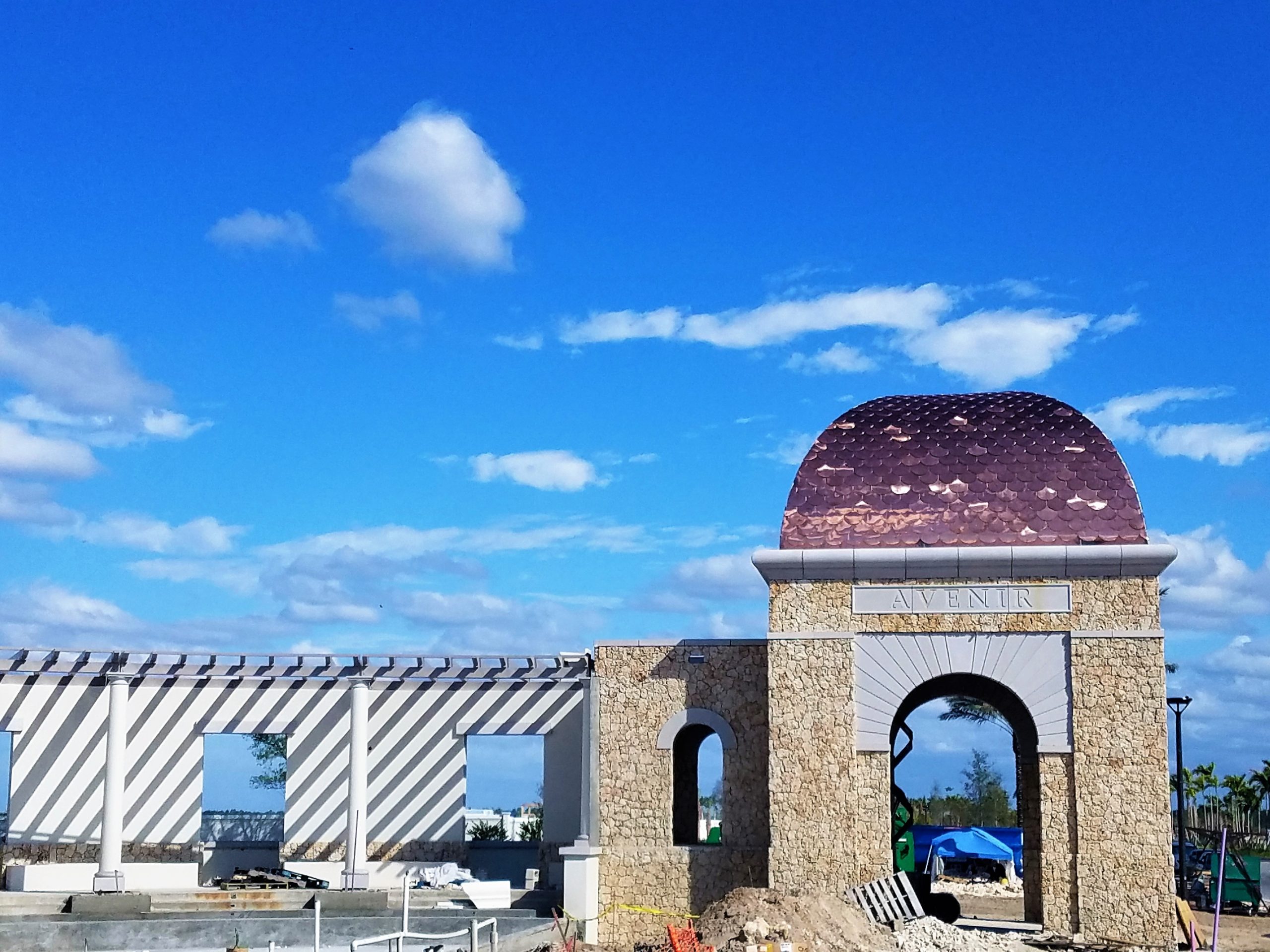 Avenir is shaping up to be a gorgeous hot spot to purchase and invest in a new construction home at Palm Beach Gardens. If the look of its front entrance is anything to judge by, Palm Beach Gardens is in for a treat. The design, style and building structures of the main Avenir entrance and exit off Northlake Blvd onto Avenir Drive resemble a Mediterranean architecture.
As you travel and come upon the entrance, you immediately notice two elegant half-sphere shaped buildings with small ponds glistening behind them. Each structure stands tall into the skyline topped with sparkling and shining gold plated roofs boldly showing signage imprinted on the side gleaming the words Avenir. This upscale and elegant starting point greets people with a warm welcome and is nothing short of amazing.
Needles to say, the Avenir construction continues at a fast pace. Beyond the entrance, one will see miles of paved roadways and walkways of colorful pavers together with benches. Contributing to the "wow" effect, is the abundance of landscaping filled with a variety of palms, plants and flowers. The feel and openness is what's also appealing.
The Windgate, Watermark and Coral Isles inner communities of Avenir are now easily distinguishable and are beginning to also take shape to the eye. Vacant land lots are now up for sale and you can purchase one with a deposit. If you're interested, we will show the up-to-date lot availability to which you'll be able to choose the land before the prime ones are gone. At that time, you'll also see the floor plans and decide which one is perfect for you
The infrastructure of these community subdivisions are installed and it appears the foundation of the model homes are being poured with structures being erected. Expectations are high and they should be ready to view in person the summer of 2020.  Here you will see Avenir site plans and phases being reviewed and considered by the city of Palm Beach Gardens. This includes the Avenir Town Center and Crystal Lagoon Parcels.
The Avenir community was definitely designed and planned thoroughly to bring real estate at a whole new level. Avenir's site plan shows where this is heading and if this direction continues from what we currently see as we travel along Avenir Drive, this surely will be a place to become involved and call home s of nay The tiny details and upscale We can only imagine